2018 Hours: Tuesday – Saturday 10:00 a.m. -5:00 p.m.
Closed all major holidays
FEBRUARY 20 WE ARE MOVING!!! But for the next six weeks, you can find us a little over one and a half miles north from Firewheel Town Center (190 & Hwy 78 at the left corner of  Hwy 78 and Fifth Street in Sachse).  This is a hard corner, with a great sign-post of the train car fronting the highway.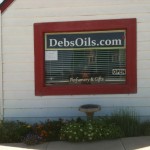 Deb's Oils and Soap Supplies     2924 5th Street, Sachse, TX 75048
Phone:      Deb: 469-644-0452 or Don: 972-762-9865
Starting FEB 20, you can find us at 2202 Bonanza Dr. Sachse, TX 75048–only 3 blocks from our current location!